Detector Boards

The key factor in a Traficon detection system is the VIP (Video Image Processor), a standard detector board on which several types of detection software can be run. The video signal from the camera monitoring the traffic is used as input for the detection unit. Detection zones are superposed onto the video image. Vehicles crossing these zones are detected. The VIP analyses the video images to generate traffic data and alarms.


VIP3D.x Vehicle Presence Detection, Traffic Data Acquisition & Intersection Monitoring

The VIP3D.x Video Image Processor provides traffic data and information on the presence of vehicles approaching or waiting at the intersection. VIP3D.x comes in 2 versions:

VIP3D.1 that monitors 1 camera (1video input)
VIP3D.2 that monitors 2 cameras (2 video inputs



VIP BIKE

Bike detection systems are an ideal way to enhance safety and efficiency for cyclists at intersections. The Traficon VIP BIKE detection board offers high-performance bike detection for thermal cameras that overcomes the limitations of traditional inductive detection loops. VIP BIKE is suitable for any US traffic controller type.

Traficonís VIP BIKE board analyzes images from thermal cameras in order to detect bicycles approaching or waiting at the intersection on multiple lanes. VIP BIKE provides four contact closures or serial information to the traffic light controller to indicate presence of bikes: one for thru lanes, one for left turn lanes, one for right turn lanes and one for dedicated bike lanes.

VIP BIKE allows to accurately assess bicycle volumes. Per phase, the traffic light controller knows whether VIP BIKE registered a dedicated trigger for bicycles. This means that it is possible to compare the total number of phases with the number of phases where bike detection took place.

Traficonís VIP BIKE solution is based on the companyís proven and tested VIP range of video image processors for vehicle presence detection and data collection. Traficonís VIP boards have been installed at hundreds of intersections across the US as a successful and cost-effective alternative for inductive loops, as they do not require any disruptive roadworks for installation or maintenance.

The IP-addressable VIP BIKE board provides H.264, MPEG-4 and/or MJPEG streaming video on thermal cameras for traffic monitoring from a remote location. Both frame rate and bandwidth are configurable.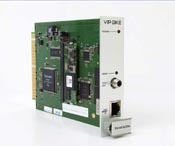 VIP PTZ

VIP-PTZ is a cost-effective and reliable solution that combines the benefits of video-based incident detection with state-of-the-art video streaming and serial communications for camera control. VIP-PTZ has been designed to add automatic incident detection to pan-tilt-zoom cameras in order to improve road safety and mobility.


•
Queue detection: detect traffic density in a global field of view
•
Automatic Incident Detection: automatically detect stopped vehicles on the road and / or hard shoulder
•
Video encoder: video streaming over IP network using H.264 / MPEG-4 compression
•
Serial server: remote control of PTZ cameras over IP network
•
Digital input & output: remote inputs and control of third party infrastructure over IP network such as warning signs or VMS panels.

VIP-PTZ automatically learns the road situation regardless of camera position.